Debbie Glenn Pre-Day Classes
Monday
Cutwork Bow Envelope
(Sewing Machine Only, 6 Hrs., All)
*Prior satin stitch work (appliqué) will come in helpful, but not required as pivot points will be reviewed in class
<![if !vml]>
<![endif]>This lovely cutwork bow case makes an elegant lingerie case,
gift bag, or boudoir pillow for a special friend!  Join Debbie for
a day of machine magic and learn the secrets for creating beautiful
finished edges and cutwork using your machine satin stitch.  Her
unique edge stitching technique eliminates poor stitch quality on
bias edges, difficult trimming, unstable bars, and those dreaded
stabilizer and fabric fuzzies often associated with machine work. 
Smooth graceful curves make this lovely bow with it's sheer
organdy inserts a perfect project for all skill levels.  
Students spend the morning stitching samples of openwork,
Australian windowpane, Richleau bars, and fine corded edges;
then have all afternoon to work on the project motif.  Most leave
class with the Irish linen heirloom envelope complete, but even
the cautious depart full of ideas for future projects. 
Tuesday
Bambury Cross
(Sewing Machine, 6 Hrs., Beginner-Intermediate)
* Knowledge of basic garment construction required for at home completion.
  Hand embroidery limited to surface details (straight stitch, French knot, satin stitch balls) on rocking horse
<![if !vml]>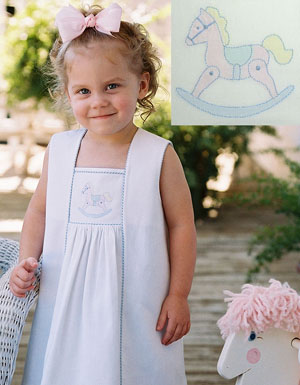 <![endif]>
Moms and toddlers alike will fall in love with the pastel rocking horse
on this precious pique sundress trimmed with sky blue whip stitch
piping.  Bambury Cross showcases a new shadow appliqué technique
which eliminates the need to trim away excess underlying colored
fabric and the possibility of accidentally cutting the surface fabric
after stitching is finished. 
Straight stitch outlining, especially when thread matches the fabric
shadows, replicates hand shadow embroidery more closely than the
pin or zigzag stitch used in the traditional method.  Students learn
how to prepare pre-trimmed cut outs, sandwich fused cut outs in
between a sheer lawn top and base fabric block, outline the rocking
horse motif using a straight stitch, and add hand details. 
Once the tiny insert is embellished, Debbie shares her secrets for
applying perfect piping which makes the rest of the garment
construction a breeze.
Wednesday
Rambling Rosie
Sewing Machine Only, 6 Hrs., Intermediate
*Knowledge of basic garment construction (application of piping, French <![if !vml]>
<![endif]>seams) required
Toddlers will love the garden of lollipop flowers,
complete with "flutterby," which bloom from the
banded appliqué hemline of this precious little 2T-5
dress. 
Who says it take a hand needle or a machine
embroidery unit to recreate the look of handwork. 
Leave it to Debbie to turn everything you've ever
leaned about embroidery upside down.  Join her for a
day of machine magic and learn how to create an
authentic looking stem and blanket stitch with your
sewing machine using pearl cotton as top thread, as
well as how to recreate Madeira motifs.  New water
soluble products make it possible to prepare the
butterfly and basket by machine without adding seam
allowances to the motif, hand basting, or using a
needle or template to turn under raw edges. 
While class time will focus on the unique "hand stitched" elements of this embroidered frock, moms and grandmas
will appreciate the modified dolman sleeves which look like traditional puff sleeves when worn, but greatly simplify construction and extend garment wear. 
2009 Debbie Glenn School
Join Debbie for 4 days of machine magic and learn some of her unique techniques for recreating handwork by machine. 
Class time concentrates primarily on mastery of these new techniques.  Students make reference samples prior to
beginning garment construction.  Confidence gained making samples leads to successful completion of class projects as
well as the incorporation of the new techniques into future projects.
Petit Fleur Scalloped Tab Frock
(Sewing Machine & Hand, 6 Hrs., Intermediate- Advanced)
*Prior satin stitch work very helpful.  Instructor recommends all students review appliqué pivot positions.
<![if !vml]>
<![endif]>  Hand embroidery limited to lazy daisies, stem stitch, and granitos
Don't you love the look of classic children's clothing!  This delightful French
inspired ensemble really turns back the clock to a time when thoughts of love
and care were woven into the construction of a young lady's wardrobe. 
Special nostalgic touches on the sweet little toddler frock include a shaped
front mock placket featuring satin stitched scallops, yoke line tucks, and contrast
overcast lace trimmed collar and cuffs.  Of course, as with all things vintage,
everything is sprinkled with delicate floral hand embroidery.
 
With Debbie's corded satin stitched scallops and lace application it's actually
possible to recreate all but the sprinkles of embroidery by machine… producing a
fabulous French frock that truly looks handmade.  While all satin stitch work will
be completed by machine, Debbie will discuss exciting hand sewing applications
as well. 
Circa 1940 French Finery: Coat, Bonnet, & Fairy Catcher
(Sewing Machine & Hand, 18 Hrs., Intermediate- Advanced)
*Prior satin stitch work very helpful.  Instructor recommends all students review appliqué pivot positions.
  Hand embroidery limited to lazy daisies, stem stitch, and granitos
<![if !vml]>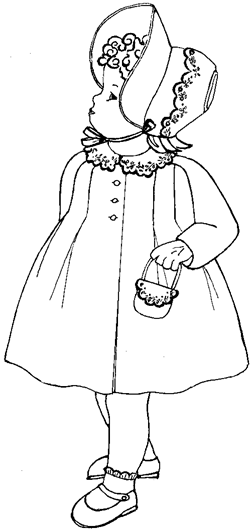 <![endif]>
"In your Easter bonnet, with all the frills upon it,
You'll be the grandest lady in the Easter parade".
                  Irving Berlin
What little girl wouldn't feel special wrapped up in this cozy spring
ensemble.  Our sweet vintage hand embroidered French coordinates
include a precious fully lined pique raglan sleeve coat with an embroidered
scalloped collar and feather stitched tucks, a unique two piece bonnet
(adjustable for better fit) with a scalloped button on piped crown and brim,
face framing lace frill, and removable silk satin ribbon wash ties;
plus a child sized purse… originally designed for catching fairies, it might be
the perfect place to store a tiny Easter egg.